Failure hits us hard. When we feel like we failed, it kicks our motivation to the curb. Have you felt that way? Maybe you feel like you have failed over and over and over again and you just can't seem to get on the right track. Perhaps you feel like you are a failure at taking care of your health because you gave in to eating something on the "naughty list." Perhaps you feel completely overwhelmed looking at the mountain ahead of you. DON'T GIVE UP! Be encouraged. Success is 99% failure -Soichiro Honda. Welcome to Drops of JOY: Jesus, Oils, Yourself. Learn how to use an essential oil in less than 3 minutes to promote natural healing in your body and encourage spiritual growth. Take a healing moment for yourself.
Spotlight Essential Oil
Today's spotlight oil is Young Living Motivation essential oil blend. Motivation is a blend of Anthemis nobilis (Roman chamomile) flower oil, Picea mariana (Black spruce) leaf oil, Cananga odorata (Ylang ylang) flower oil, Lavandula angustifolia (Lavender) oil that promotes the "get off the couch and stop feeling sorry for yourself" feeling of productivity and a sense of accomplishment. Motivation is a very powerful essential oil. Start with one drop in your diffuser or the palm of your hand and go up from there.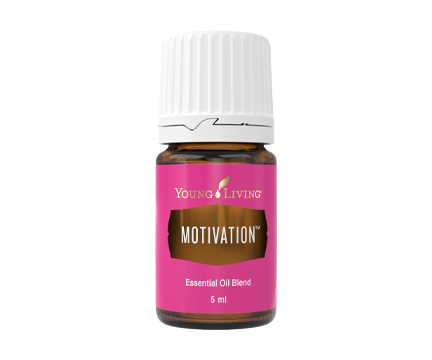 I have a confession. My reason for using Motivation essential oil blend was because I was desperately needing some motivation to homeschool my kiddos. It was a tough teaching season for me. I was burnt out. I felt overwhelmed. I felt guilty about not being excited to homeschool. I felt stuck in that negative thinking. I felt like a failure. So one homeschool morning I took my Motivation essential oil, added one drop to the palm of my hand, and inhaled deeply as I prayed for God to give me the strength and motivation to homeschool my kiddos. I prayed and used Motivation consistently. It worked so well that I started using it for my struggling learners who needed a little extra motivation for school. Motivation = positive productivity.
J.O.Y. in Action
Place one drop of Motivation essential oil in the palm of your hand. Cup your hands over your nose and mouth, and inhale deeply for 5 counts, hold for 1 count, and exhale for 8 counts. Repeat. As you inhale, pray "I will not get tired of doing what is good. At just the right time I will reap a harvest of blessing if I don't give up." Galatians 6:9. Relax. God is in control. Surrender it to Him and allow Him to guide you through your circumstance. You can also add 1-2 drops of Motivation to your diffuser or make a motivation rollerball with 5 drops of Motivation topped off with V-6 carrier oil.
Praying Scripture over your circumstances and your life is a powerful way to shift your perspective. I don't consider falling as failure. I consider failing to rise after the fall as failure. When we give up, we fail. But when we see failure as an opportunity to learn, it is then that we open up the door for success. – Dr. Joy.
Get started with Young Living Essential Oils and receive 2 complimentary 30-minute target goal sessions with Dr. Joy.


Blessings, joy, and virtual hugs,
Dr. Joy

Christian Counseling Psychology Practitioner
Certified Clinical Aromatherapist
Purchase Young Living Essential Oils
For daily support, join my JOYFull Oily Family on Facebook for wellness tips, videos, and natural wellness support.
For Spritual Growth, join my Women, Rise Up group on Facebook for Bible verses, inspiration, and opportunities incorporate Jesus into your daily life.
JOYfull Inspirations is NOT a non-profit organization. Your donations are an opportunity to support our family, our mission, and our continued services to the others.

Like our FB page at https://www.facebook.com/JOYFullInspirations/ and share with friends.