Are you feeling worried, overwhelmed, angry, frustrated? With the emotional tensions we are facing today, many people are reaching out to me in need of emotional and mental support. We could all use a little EXTRA support these days. So I decided to create Drops of JOY summer series where I spotlight a Young Living essential oil with a sprinkle of Jesus. You will learn how use the spotlight oil coupled with prayer in less than 3 minutes to promote natural healing in your body and encourage spiritual growth. Join me on Mondays for a healing moment for yourself with Drops of JOY: Jesus, Oils, Yourself.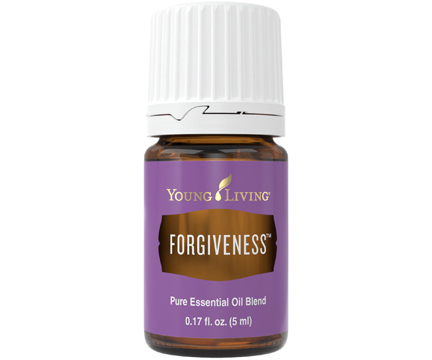 Are you feeling bogged down emotionally? Are you carrying a burden from a hurt? You are not alone. Today's spotlight is Young Living Forgiveness essential oil Blend. Forgiveness™ essential oil blend includes Melissa, Geranium, Frankincense, Royal Hawaiian Sandalwood, and other essential oils to help support emotional growth and promote a peaceful, uplifting experience when implementing forgiving behaviors.
My first experience with Forgiveness essential oil blend was during a time I experienced an event that was very traumatizing to me and to my family. I knew I needed to forgive or this event would continue to hurt me and instill fear in my heart. First, I prayed and ask God to help me to forgive. Then, I put one drop in my hand, rubbed them together, cupped over my nose and mouth, and breathed in deeply. I used it as needed when the thought came to my mind. I lifted it up to God, I said "I choose to forgive…", and I inhaled more Forgiveness essential oil. The act of forgiveness helps to release emotional tensions, increase productivity, and support our mental and emotional health..
As you read this, pray and ask Jesus to come meet you where you are and ask Him to help you forgive (insert your need here). "If you forgive those who sin against you, your heavenly Father will forgive you. But if you refuse to forgive others, your Father will not forgive your sins." Matthew 6:14-15. Add a drop of Forgiveness essential oil blend to the palm of your hand and inhale deeply. Place a drop over your heart as you pray. Remember, "To forgive is to set a prisoner free and discover that the prisoner was you." Louis B. Smedes. You will be pleasantly surprised how much more productive and positive you feel when you release the prisoner.
You are an OVERCOMER! For more on this topic visit: Freedom 20/20 Series: Forgiveness.
Get started with Young Living Essential Oils. It changed the trajectory of my life and my family's health.

Blessings, joy, and virtual hugs,
Dr. Joy

Christian Counseling Psychology Practitioner
Certified Clinical Aromatherapist
Purchase Young Living Essential Oils
For daily support, join my JOYFull Oily Family on Facebook for wellness tips, videos, and natural wellness support.
For Spritual Growth, join my Women, Rise Up group on Facebook for Bible verses, inspiration, and opportunities incorporate Jesus into your daily life.
JOYfull Inspirations is NOT a non-profit organization. Your donations are an opportunity to support our family, our mission, and our continued services to the others.

Like our FB page at https://www.facebook.com/JOYFullInspirations/ and share with friends.