Did you know medical research estimates as much as 90 percent of illness and disease is stress-related?1 High blood pressure, cardiovascular disease, and heart disease have been linked to stress factors. Stress can affect hormones, sleep, digestion, immune function, mental health, and more. Do any of these things sound familiar to you? This is where I was seven years ago and why I made JOY the premise of my life. In all my years of work, stress seems to be an underlying cause of many of the ailments my clients and members are experiencing. Ready for change? Welcome to Drops of JOY: Jesus, Oils, Your self-care. Learn how to use an essential oil in less than 3 minutes to promote natural healing in your body and to encourage spiritual growth. Take a healing moment for yourself (see the Drops of JOY Series).
Young Living Essential Oil Spotlight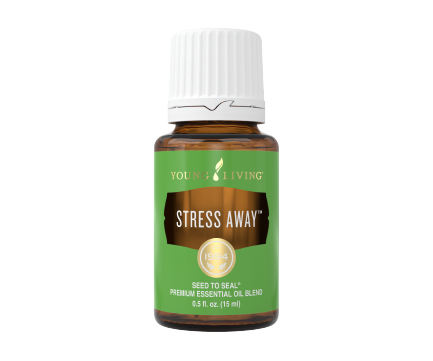 Today's spotlight Young Living Essential Oil is a favorite! Stress Away™ essential oil's aromatic experience begins with a blend of Lime essential oil and vanilla extract, which make this blend so unique. Stress Away also includes Copaiba, which has a history of beneficial properties in topical application; Lavender, with its refreshing and calming scent; and Cedarwood, which features the powerful plant constituent cedrol. These ingredients are expertly blended with the exotic scent of Ocotea, a unique Ecuador-sourced essential oil.2 One of my fondest memories of Stress Away is when my daughter and I had a very intense, eventful day. We both raced to the cabinet and grabbed the bottle of Stress Away and inhaled it. We felt the immediate release of tension in the neck and shoulders along with a "release" down the spine. It has been a favorite ever since!
J.O.Y. in Action
Ready for stress relief? Are you ready to place your worries and anxieties in God's hands? Place 1-2 drop of Stress Away oil into the palm of your hand. Rub your hands together. Cup your hands over your nose and mouth (leave a 2-5 inch space between your hands and face), and inhale deeply for 5 counts, hold for 1 count, and exhale for 8 counts. Massage your neck and shoulders with your hands. Repeat three times. As you inhale, pray "I will not worry about anything; instead, I will pray about everything. I will tell God what I need, and thank him for all He has done for me. Then I will experience God's peace, which exceeds anything I can understand. His peace will guard my heart and mind as I live in Christ Jesus. Philippians 4:6-7 NLT (reworded in first person).
Additional Tip: Add 4-8 drops of Stress Away to your diffuser before bed or after a long day. Make a Stress Away rollerball with 15 drops of Stress Away topped off with V-6 carrier oil. Carry your rollerball in your purse for on-the-go stress relief. Roll on your wrists, behind ears, and back of neck. Want more ideas? Bath salts!
Jumpstart Your Highly Productive Life
Start with your own Young Living essential oils starter kit Young Living Essential Oils (Dr. Joy ID#2924389) as part of my Joyful Oily Family and receive 2 complimentary 30-minute target goal sessions for a highly productive life with Dr. Joy (contingent upon completion of your review of your FREE digital copy of the Introduction to Young Living Essential Oils). I can't wait to walk with you on your journey.
Blessings, joy, and virtual hugs,
Letticia "Dr. Joy" Callies, DMin, MA, CCA

J.O.Y. Specialist
Certified Clinical Aromatherapist
Purchase Young Living Essential Oils
For daily support, join my JOYFull Oily Family on Facebook for wellness tips, videos, and natural wellness support.
For Spritual Growth, join my Women, Rise Up group on Facebook for Bible verses, inspiration, and opportunities incorporate Jesus into your daily life.
JOYfull Inspirations is NOT a non-profit organization. Your donations are an opportunity to support our family, our mission, and our continued services to the others.

Like our FB page at https://www.facebook.com/JOYFullInspirations/ and share with friends.
References:
1https://nasdonline.org/1445/d001245/stress-management-for-the-health-of-it.html
2https://www.youngliving.com/en_US/products/stress-away-essential-oil-blend?al=str